Holiday Support Arrangements
We are out of the office until Wednesday 6th January. If you urgently need to contact us during this period then either telephone the office on the usual number (01768 779988) and leave a voicemail or email us at shaunsoft@shaunsoft.com and someone will get back to you as soon as possible. Have a wonderful holiday and all the best for 2021! - Shaun and Clare.
Published:12/22/2020 By:Clare
ctxGoDrive!
The first release of ctxGoDrive is now widely available for testing through the Android App Store and we are hoping that it will be released to the Apple store in the very near future.
We feel it is getting close to full 'live release'.
We have done a lot of work optimising the app, making it more efficient with memory and start time. We have also reduced the amount of data the app downloads, particularly on first time start.
We have also done a lot of work 'cleaning' up the look and feel, mainly to improve clarity but also as part of the performance improvements.
New Features Include:
Off line notifications, you can now receive messages when the app isn't running.
Online status indicator, you will notice that the 'messages' icon changes colour as and when you go on and offline. Green means all is OK, Orange means you have a connection but are not currently online and red means you're totally offline.
You can now see the last 15 messages you received or sent on the messages page.
On the schedule screen, when you swipe right you are given the option to reset a journeys status, e.g. un-cancel or un-complete. As part of this we have increased the size of the buttons to make them easier to select and combined 'message' and 'notes' into one screen.
We have added 'System' to themes, so if your phone is in Dark or Light Mode ctxGoDrive will respect your phone settings.
Known Problems:
We are still having an issue on some devices where when a field is selected, the background colour clashes with the text colour particularly on the time and date fields, we are working on this.
There is sometimes a problem, particularly on iOS, when after an update, when the app runs for the first time it sticks on the driving page as if it is still downloading even though its finished. The only solution for this is to close the app and restart it, again we are working on this.
Please keep sending us your feedback, it's even more important now we are nearing final release.
Cheers
Shaunsoft
Published:12/22/2020 By:Clare
Autumn 2020
The latest update to CTX has now been released and whilst a lot of work has taken place behind the scenes in preparation for CTX3, there are couple of changes.
You may have noticed that your ctxLive sign in page has changed which has been done to support more authentication providers, the first one being 'Sign in with Apple'. This also brings CTX in line with the mobile sign in for ctxGoDrive and ctxInvoicing. If you encounter any problems signing in then please contact us - this change has resulted in some accounts, particularly where you sign in with a social account, using a slightly different ID - we just need to make a quick change at our end if this is the case.
This release of CTX has also added support for full integration with Microsoft 365 email so now works exactly in the same way as any email application, including the option to add to your sent items. There are some limitations for bulk mailing that are part of the rules for MS365 but these can be managed and for CTX3 this functionality will be expanded further. For those who have been using CTX to email previously then you should be able to continue doing so without any problems - going forward for those who would like to set this up then please get in contact.
In this update the behaviour of 'Staff Time' in post trip has been changed, to enable you to add staff time for Passenger Assistants. Adding staff time is now independent from the journey you're post tripping. Adding a Driver\PA staff time doesn't affect the journeys Driver or PA, you can add a Driver or PA to the journey without adding staff time also.
Thank you all for your feedback on ctxGoDrive - it has been so important to have yourselves and your drivers input into the development of the App, with many improvements being made based on this. You now have to ability to reset bookings should an error be made and offline notifications can also be enabled for the first time. We are about to send out a 'release candidate' version before it is available from the store so keep on testing and feeding back to us!
In uncertain and difficult times it has been a pleasure chatting with many of you recently and hearing how you have managed to adapt your services to help those who need it most! An inspiration to us all!
Cheers
Clare
Published:11/23/2020 By:Clare
ctxInvoicing Update
We have just released a new update to ctxInvoicing, the changes to the main application are quite small and detailed below. However the most important change is how the application is distributed. Instead of manually downloading and running an installer ctxInvoicing will no automatically update just as if you had installed it through the Microsoft Store, it's actually exactly the same technology just outside the store.
To move to the new version it is sensible to uninstall your existing ctxInvoicing and once you have done that goto the new install page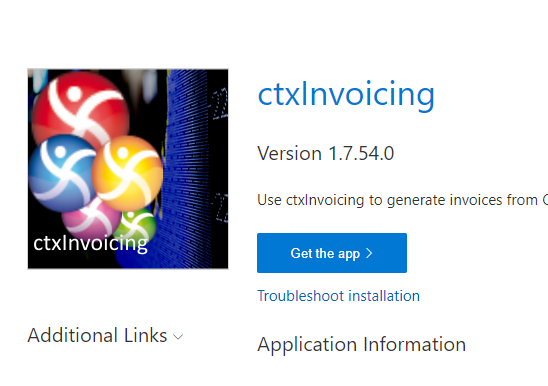 Click on Get the app and it will take you through the installation.
Once your on this version it will automatically update to the latest version as when they become available. If however you can't wait for it to happen 'naturally' there is an option on the CTX button menu to check for updates.
Whats new in this release
New look

The first thing you will notice is that ctxInvoicing has got a new Icon as well as new 'tiles' in the start menu. As the other new CTX applications arrive the new theme will become apparent.
You will also notice that the look and feel is just a little fresher and more colorful.
New Tools
We have added a new option to the main ctxInvoicing ribbon. When you load the journeys from CTX that are to be invoiced if there any with missing account references you will see a new button become enabled on the ribbon Fix Invoices.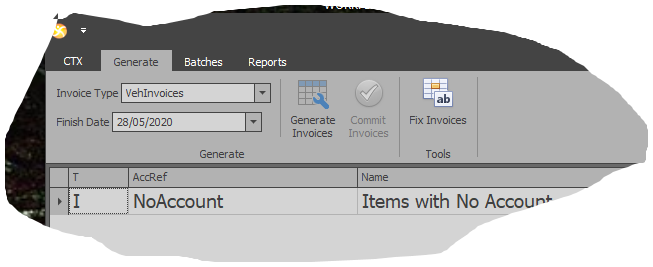 When you click this all the items with no account or where you have multiple companies, no valid company assigned.

You can then select the invoice lines and add a customer or a valid company.
It's worth noting on this, that this simply fixes the invoicing and has no effect on the requests these will still need to be corrected in CTX for now, but you can carry on invoicing.
Please let us know what you think of the new installer and features.
Cheers
Shaun
Published:5/28/2020 By:Shaun
CTX2 May 2020 Update
A new version of CTX is now available for those who manually install, it should be available in the Microsoft Store from 25th of May. There are no major database changes so there should be no issues with people accessing CTX with the previous version.
This update has been ready for a while, but we decided to delay it's release to give people time to settle in the 'new way of working' during lock down. After chatting with a few projects it was felt that we should release the update, mainly for the new Regular Request Manager, as many projects are starting to get back to more normal work.
Key New Features
Regular Request Manager
Regular Request Manager is available from the CTX Button, System Tools menu. It allows you to load existing regular requests, either using the default based on a date range or a custom option created for you. Once the regular requests are open you select the ones you wish to work with and end and restart them. This is particularly useful where projects have cancelled large numbers of regular requests due to Covid-19 and want to start restoring them.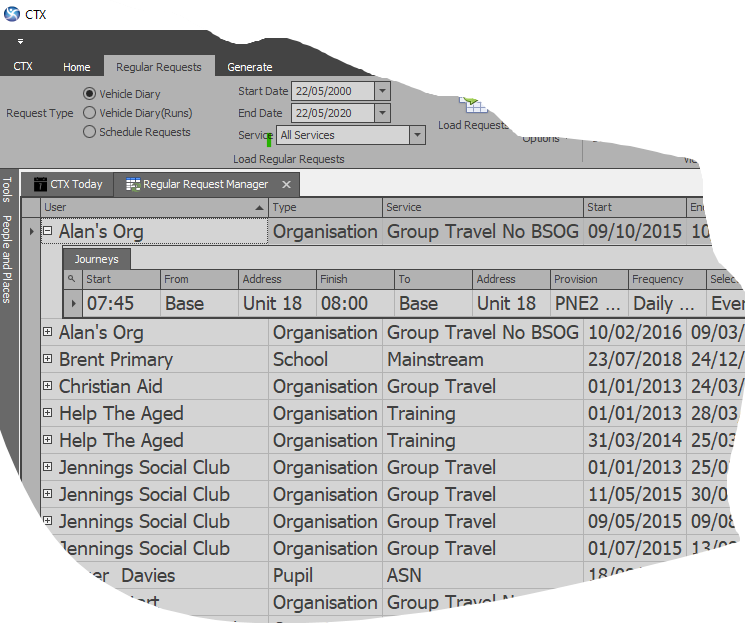 ctXtra Reports Update
We have added 'Sub Reports' to ctXtra reports, whilst this doesn't sound particularly interesting, it allows us to provide reports for printing that can be way more complicated than what is possible with ctxWrite reports. Those of you in that past have had complex 'Legacy' reports will know the type of thing. We have also made this an option for Driver Worksheets.
The Last Version of CTX2
It is hoped that this will be the final release of CTX2 (apart from bug and security fixes), unless of course something significant needs to be changed or added. Work has started at a pace on CTX3. We hope to make CTX3 available for users to play with over the next month or two and will be inviting projects to try it out, you will be able to install both versions on your PC.
Cheers Shaun
Published:5/22/2020 By:Shaun